Photography
Where to propose in London
London, with its iconic landmarks, rich history, and vibrant culture, serves as a great backdrop for a romantic proposal. Whether you'd prefer a classic setting like Tower Bridge or the London Eye, or a more intimate rooftop location, the city offers an abundance of picturesque spots to mark this special moment.
The element of surprise can transform a proposal into a story to be retold with joy and love for years to come. With London as your accomplice, such a moment can be an unforgettable chapter in your love story.
In this guide, you'll discover some enchanting locations that set the stage for a perfect proposal in the heart of England. And what better way to immortalize this cherished memory than by hiring a professional photographer to capture every sincere moment?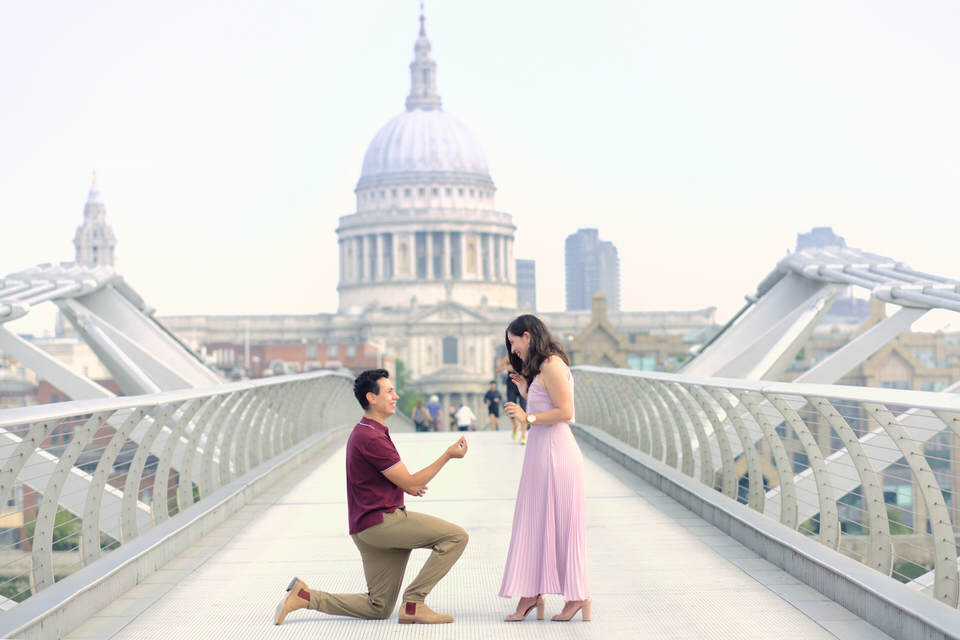 Where to Propose in London – Iconic Landmarks
1. Tower Bridge
With its intricate architecture and panoramic views of the Thames, Tower Bridge makes it a prime location for a proposal. Propose against the backdrop of the bridge's majestic towers and enjoy the breathtaking views of the city skyline.
2. The London Eye
Elevate your proposal to new heights aboard the London Eye, a giant Ferris wheel offering panoramic views of London's landmarks. With its slow rotation, you'll have ample time to savor the moment while enjoying a bird's-eye view of the city's landmarks, creating an unforgettable memory.
3. St. Paul's Cathedral
The grandeur of St. Paul's Cathedral, with its stunning dome and intricate architecture, provides an awe-inspiring setting for a proposal. The combination of architectural marvel and timeless beauty creates a moment of pure romance. Whispering your love under the Whispering Gallery's acoustic wonders adds a touch of magic.
4. Kensington Gardens
Stroll hand-in-hand through the picturesque Kensington Gardens, where Prince William proposed to Kate Middleton. Find a remote spot amidst the lush greenery and lakeside views for an unforgettable proposal.
Saying Yes in London during a Culinary Experience for Two
5. Riverside Dining at The OXO Tower Restaurant
Choose the OXO Tower Restaurant for a romantic meal by the river. With its floor-to-ceiling windows, you'll have a front-row seat to the beauty of the Thames and the city lights, making it a perfect setting for a proposal.
6. Picnic in Hyde Park
Opt for a more intimate experience with a picnic in Hyde Park. Surrounded by nature's beauty, you can share a meal and a moment that feels like it's just the two of you in the heart of London.
7. Dinner Cruise on the Thames
Combine the charm of a river cruise with a gourmet meal for a truly memorable proposal experience. Glide along the Thames, taking in the city's landmarks, while enjoying a delicious meal.
8. Hakkasan Hanway Place
Uplift your proposal with a touch of exoticism at Hakkasan Hanway Place, a Michelin-starred Chinese restaurant. Propose amidst the opulent décor and indulge in exquisite Asian cuisine.
Rooftop Proposal Spots in London – Declare Your Love With a View
9. Sky Garden at 20 Fenchurch Street
The Sky Garden offers an unrivaled 360-degree view of London's skyline. With lush greenery and a spectacular vantage point, it's a setting that embodies the heights of romance for a proposal.
10. Radio Rooftop Bar at ME London
Enjoy the chic ambiance of Radio Rooftop Bar, where you can toast to your future amidst the glittering lights of the city below. The sophisticated atmosphere and stunning vistas add a touch of glamor to your proposal.
11. Dinner at The Shard
Ascend to the top of The Shard, the tallest building in Western Europe, and propose amidst the stunning 360-degree views of London's sprawling cityscape. Enjoy gourmet cuisine and set the stage for the moment you'll engrave in your memories forever.
12. French Cuisine at Coq d'Argent
Overlooking the River Thames and St. Paul's Cathedral, Coq d'Argent offers a romantic rooftop setting with delectable French cuisine. Savor a gourmet meal and propose against the backdrop of twinkling city lights.
Our team of experienced and passionate professional photographers will discreetly document every precious detail, from the heartfelt moments leading up to the proposal to the joyous embrace of your engagement.
With an eye for detail and a passion for storytelling, our artists ensure that your proposal becomes a cherished memory that lasts a lifetime.