The Now Time
Super Fun London Bridge Photoshoot, actually Tower Bridge Photoshoot
Create unforgettable memories with London's timeless gem with a London Bridge photoshoot, actually a Tower Bridge photoshoot.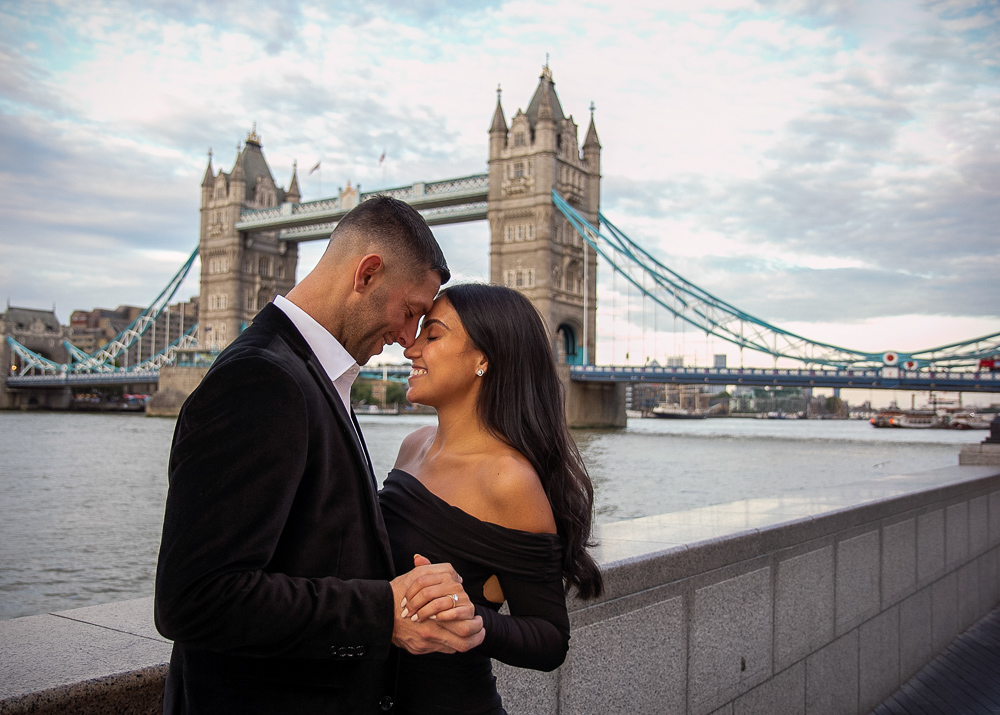 "Tower Bridge connects not just two sides of the River Thames, but also connects the past with the present."
If you are traveling to London alone, as a couple or with your family and you'd like to have photos with the most iconic landmark in London. Then a Tower Bridge photoshoot should be on your to-do list! A London photoshoot at Tower Bridge is an experience you must have.
London Bridge is not Tower Bridge – Confusion Alert!
People often confuse Tower Bridge with London Bridge because they are two iconic bridges in London. Tower Bridge is a famous suspension bridge with its distinctive towers, while London Bridge is a less visually striking bridge that connects the City of London with the Borough of Southwark. Despite its less impressive appearance, London Bridge has historical significance and has been replaced and rebuilt multiple times throughout history.

From now on, in the text below we'll refer to Tower Bridge as Beautiful London Bridge. By the way, in this article you will find out where are the best spots to take photos with the bridge and what prices to expect for a professional photoshoot. Wondering why is Tower Bridge so famous? Check out this guide and find out all you need to know about your upcoming photoshoot!
What is Special about this Beautiful London Bridge called Tower Bridge?
The bridge is a great symbol of England and has been featured in literature and art. The construction of the bridge started in 1886 and lasted for eight years. Moreover, the Tower Bridge crosses the Thames River and is a crucial transportation route in London's history. It connects the city on the north banks to the Southwark, a busy and modern area of London. The vital role of connecting these two banks contributes to its importance and recognition.
Also, Tower Bridge has witnessed major historic events that marked England. These are just some of the reasons the Tower Bridge is an iconic landmark and should not be missed. So next time you're coming to London, it's a must to visit this landmark and book a professional Tower London Bridge photoshoot.
Why choose a Tower Bridge Photoshoot?
This beautiful London bridge is an iconic landmark in England, thanks to its fabulous architecture. It provides a gorgeous backdrop for any type of picture. The bridge is an awesome blend of modern and traditional styles. The historic structure with the two towers and the modern look of London that surrounds the bridge give your pictures a diverse and unique backdrop.
The Tower London Bridge allows photographers to explore creative angles and capture the soft hues of sunrise, the vibrant colors of midday, and splendid sunsets. Therefore, no matter the type of pictures you want, the background for your images will take anyone's breath away.
A London Bridge photoshoot is going to be unforgettable and you will create long-lasting memories that you will forever cherish, no matter the type of photo style you are choosing.
It's not only the bridge that will be in your photos but also its surroundings. On each bank, you will see modern urban landscapes, capture the river, and other architectural wonders that will add value to your photoshoot.
Moreover, our London based professional photographers will take high-quality images. So, partnering with a skilled photographer who knows how to leverage the unique qualities of Tower Bridge ensures that you'll receive exceptional and breathtaking images.
London Bridge Photoshoot – Who is it for?
AMARETTO LATELY
Tower Bridge Photos
A London Bridge photoshoot can be a fun and captivating choice for a few purposes. So, here are just some of the individuals that can benefit and enjoy such a photoshoot:
Couples
If you want to celebrate the relationship you have with your significant other, then a Tower Bridge photoshoot is the right experience for you. Whether it's for an engagement, anniversary, or simply a romantic photoshoot, couples can create lasting memories against the iconic backdrop of the bridge.
Families
Families can capture their bond amidst the historical and modern elements of Tower Bridge, creating cherished memories that reflect both tradition and the future.
Influencers
Aspiring models, influencers, fashion bloggers, and those interested in showcasing their style can take advantage of Tower Bridge's diverse settings for unique and trendy photos.
Pregnant Women
A Tower London Bridge photoshoot can be a wonderful choice for capturing the beauty and emotion of a maternity journey. London Bridge's historical significance and iconic status can symbolize the transition to parenthood, connecting the past with the future. It is a romantic place, intimate and the changing lights at different times of the day can capture the radiant glow of your pregnancy.
Solo Travelers
Tower Bridge is probably the most wanted location for solo portraits. Regardless if you wish to use these images for your social media, dating profile or anywhere else.
Weddings
From our experience as London photographers, brides and grooms tend to take wedding photos at this bridge either on the wedding day or on a later date for a wedding photoshoot in London.

The team is very professional. Booking was very easy, from first contact all the way to after the photo session. The team is responsive and accommodating. We received a link to the full set of photos fast and the photos look great.
Types of Tower Bridge Photoshoot
8 TYPES OF
TOWER BRIDGE PHOTOSHOOT
There are several types of photoshoots you can take at Tower Bridge, each suitable for different occasions, themes, and styles.
Travel Photo Session
For tourists visiting London, a photoshoot at Tower Bridge is a way to commemorate the trip and bring back home stunning memories of the journey.
Engagement
Choosing Tower Bridge for your engagement photoshoot can create a stunning and meaningful backdrop for capturing the excitement and love between you and your partner.
Wedding Photoshoot
A Tower Bridge wedding photoshoot can add an element of grandeur, history, and romance to your special day. The captivating backdrop will complement your wedding attire and add a touch of elegance to your photos.
Pre Wedding
A pre-wedding photoshoot at Tower Bridge can be a wonderful opportunity to capture your love and excitement before the big day. The historic architecture, cityscape views, and riverside locations create a romantic ambiance that beautifully surrounds you.
Maternity Photos
Celebrate the journey to parenthood with maternity photos taken against the backdrop of Tower Bridge, adding a touch of history and significance.
Vow Renewal & Anniversary
A vow renewal ceremony at Tower Bridge can be a meaningful and romantic way to reaffirm your love and commitment to each other.
Family Photoshoot
Whether you are celebrating a birthday or just a family trop to London, a family photoshoot at Tower Bridge can capture your uniqueness.
Portraits & Fashion
Utilize the bridge's architecture and surroundings to create captivating portrait shots, capturing the subject's personality against the urban and historical environment.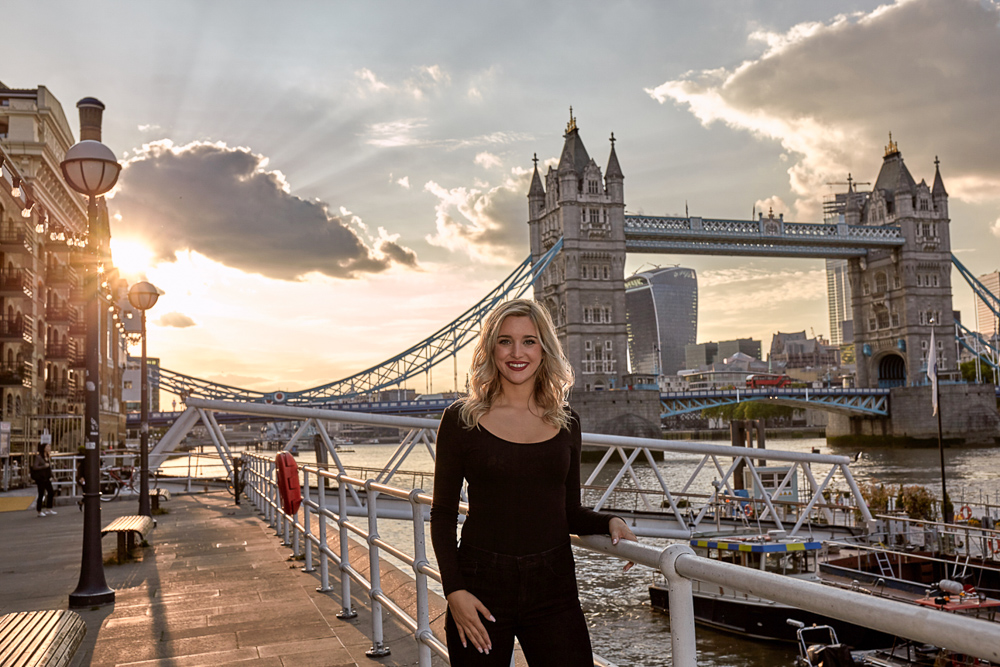 Where is the best view of Tower Bridge for a photoshoot?
TOWER BRIDGE
The Best View
There are so many angles and areas that offer stunning views and backdrops. So, if you are wondering "Where can I take pictures of the Tower Bridge?", here are some of the best photo spots below:
Thames Path
Walking along the Thames Path on both sides of the river allows for various angles and perspectives of Tower Bridge, especially during sunrise or sunset.
Southwark Cathedral
This historic cathedral provides a picturesque setting to capture Tower Bridge in the background. The juxtaposition of the cathedral's architecture with the bridge creates an interesting visual contrast.
Potters Fields Park
This park on the south side of the Thames offers a spacious and green environment with London Bridge as a stunning backdrop. It's ideal for capturing both the bridge and the skyline.
Hays Galleria
This covered walkway on the north side of the river offers an interesting architectural setting and a unique angle for photographing the Tower Bridge.
St. Paul's Cathedral
Head to the Millennium Bridge near St. Paul's Cathedral for a view of Tower Bridge in the distance, framed by the city's iconic landmarks.
City Hall
The unique architecture of City Hall, located near the bridge, can add an artistic touch to your photo shoot, providing an intriguing backdrop for your images.
How to Book a London Bridge Photoshoot?
Booking a professional photographer for your Tower Bridge photoshoot can transform your experience into a memorable moment in the capital of England. To make sure everything works out according to your plans and the results are exactly the way you expect them to be, you should consider these steps:
1. Do Your Research!
Search for London professional photographers who specialize in the type of photoshoot you're interested in (engagement, wedding, portrait). Also, you can ask your friends and family for recommendations. Check their style: classic, modern, fine art, etc
2. Check their social media channels and portfolios!
Browse through their portfolios, websites, and social media channels like Facebook, Instagram, Pinterest, or YouTube to ensure their style aligns with your vision and preferences. Check their photography reviews to make sure that other clients had a positive experience already!
3. Contact the photographer and discuss the details!
Reach out to your selected photographers to inquire about availability, packages, and pricing. Narrow down the search based on their price availability and packages. Set up a date and time, the meeting point, express your demands and tell them if you have specific requests.
Once you've booked your photographer, plan your photo shoot, choose the areas around Tower Bridge where you want your photos, plan your outfits, and think about props and other aspects relevant to your photoshoot.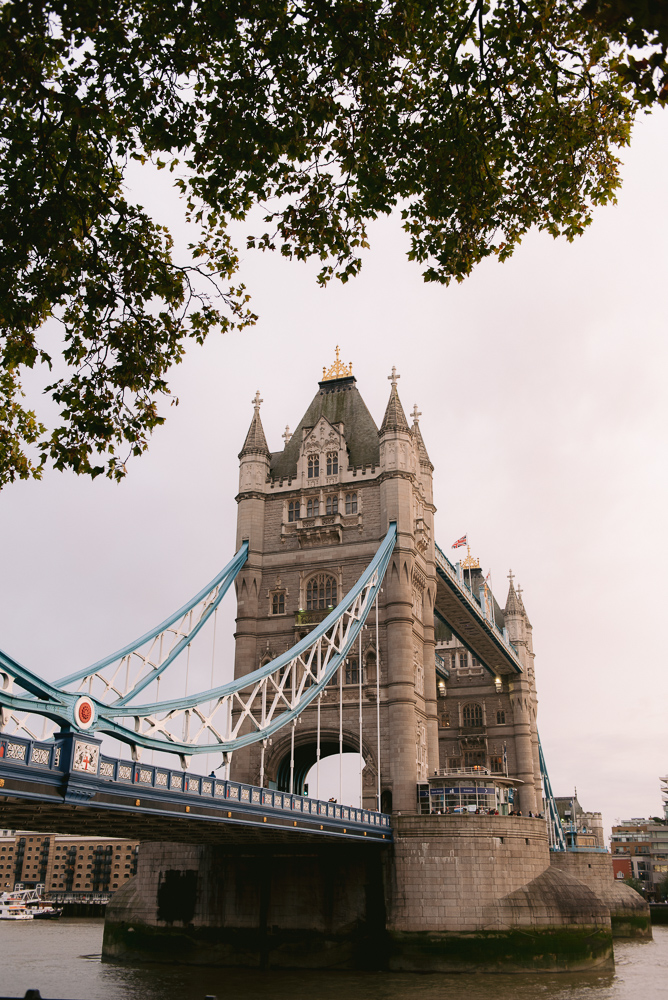 BOOK A PROFESSIONAL PHOTOGRAPHER FOR A LONDON BRIDGE PHOTOSHOOT
Get unforgettable memories in the most iconic place in London: Tower Bridge.
Your Life is a Present!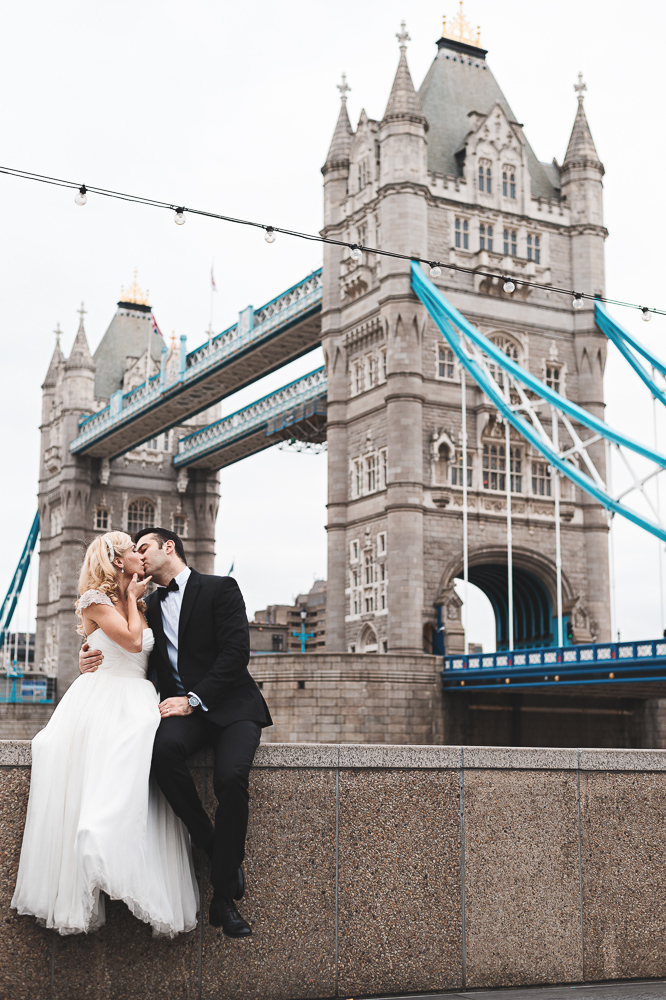 How much does it cost to book a Tower Bridge Photosession?
The cost of booking a Tower Bridge photoshoot package can vary widely depending on several factors, including the photographer's experience, the type of photoshoot, the duration of the session, the number of final images provided, and any additional services offered.
Established and well-known London photographers with extensive portfolios and experience may charge higher fees due to their reputation and demand. Prices start from 100 pounds and can even reach 1000 pounds, depending on the criteria listed above.
Why The Now Time
Fran Boloni, the owner of The Now Time, has a decade of experience and he built a successful photography business in Paris, France. There, he has a team of six photographers and 2 videographers who help him deliver memorable moments and high-quality images to his customers. He plans to expand to several cities in Europe and around the world, and London is just the first destination. Fran has great attention to detail, his team has worked with over 6000 couples and families, and delivered thoughtful candid images.
London Bridge Photoshoot Inspiration
TOWER BRIDGE
Inspiration
 As mentioned before, there are several types of photoshoots that you can book and a lot of places around the Tower Bridge where you can go to get a wonderful backdrop. Below you can find some amazing photos taken by our photographers that can help you find inspiration.
Sunrise or Sunset Magic
Capture the soft and warm lighting of sunrise or sunset against the backdrop of Tower Bridge. Silhouettes, long shadows, and vibrant colors can create breathtaking images.
City Love
Embrace the urban atmosphere by posing against the sleek lines of the bridge's architecture. Use the cityscape as a backdrop to showcase your connection amidst the hustle and bustle.
Reflections
Capture stunning reflections of Tower Bridge on the water of the Thames, creating a dreamy and surreal effect.
Candid Moments
Capture candid moments of laughter, stolen glances, and shared whispers that reflect the genuine connection between you and your partner.
Dramatic Black and White
Experiment with black and white photography to emphasize contrasts, textures, and emotions against the backdrop of Tower Bridge.
Frames Within Frames
Ask your photographer to incorporate architectural elements, archways, or other structures around London Bridge to create unique compositional frames that draw attention to you as the subject.
Walking Hand in Hand
Capture the simple yet profound act of walking hand in hand across London Bridge, symbolizing your journey together.
Up Close and Personal
Focus on close-up shots that capture intimate details, like holding hands, exchanging rings, or a simple touch on the bridge's railings.
Tower Bridge Photosession Ideas
1. Urban Elegance
Dress in your finest attire and pose against the sleek lines of Tower Bridge, creating a striking contrast between your elegance and the urban environment.
2. Romantic Stroll
Capture candid moments as you take a walk along the Thames Path with Tower Bridge as your backdrop.
3. Riverside Embrace
Stand by the river's edge with Tower Bridge in the background, sharing an intimate embrace that reflects your deep connection.
4. City Silhouette
Pose against the backdrop of the setting sun or city lights, creating beautiful silhouettes with Tower Bridge as a recognizable shape.
When Should I book a London Bridge Photoshoot?
The timing of your booking depends on your preferences, the time of your wedding, elopement, anniversary, etc. the time of your trip to London, the availability of the photographer, or any other factors that influence the shoot. Here are some considerations that can help you decide when is the best time to do a Tower London Bridge photoshoot.
1. Choose the right season
London has all seasons, and each has its own charm. Consider the weather and scenery you prefer for your photos. Spring (April to June) and early fall (September to October) often offer pleasant weather and vibrant foliage. Summer is hotter and full of season while in winter you can experience snowy days.
2. Weekdays vs. Weekends
Weekends tend to be busier around popular landmarks like Tower Bridge. If you prefer a quieter atmosphere, consider booking on a weekday.
3. Special Occasions
If your photoshoot is tied to a special occasion like an anniversary, engagement, or birthday, plan accordingly to ensure the photoshoot aligns with the date and the photographer you want is available.
4. Sunrise or Sunset
Many photographers prefer to shoot during the "golden hours" around sunrise and sunset when the lighting is soft and flattering. Check the local sunrise and sunset times for your desired date.
Bonus Tip – Photographer's Recommendation for a London Bridge Photoshoot
If you're working with a photographer, they can offer advice on the best times of day and seasons for your desired style of photos. We recommend you plan ahead and early book your photographer. This will give you enough time to choose your outfits, book a hairstylist and a makeup artist, and find proper props if needed.
Benefits of Hiring a Professional Photographer for your Tower Bridge Pictures
Choosing a professional photographer for your Tower London Bridge Photoshoot comes with loads of benefits. A local photographer knows when it's the best time of the day to do the photoshoot, can contribute to the quality of the images, and will make sure you'll have a fun and memorable experience in London. Here are just a few reasons why you should book a photographer!
Expertise: Professional photographers have the technical knowledge and skills to capture high-quality images. They understand lighting, composition, angles, and other elements that make a photo visually appealing.
Creative Direction: Photographers can offer creative ideas for poses, locations, and themes that align with your vision and style, enhancing the overall concept of your photoshoot.
Equipment: Professional photographers use high-quality camera equipment and accessories to ensure the best possible results, especially in varying lighting conditions.
Experience: An experienced photographer knows how to work with different subjects and settings, ensuring that you're comfortable and natural in front of the camera.
Location Familiarity: Many professional photographers are familiar with shooting at iconic locations like Tower Bridge. They know the best angles, viewpoints, and spots to capture stunning images.
Time Efficiency: Professionals can work efficiently, ensuring that you make the most of your photoshoot time and capture a variety of shots.
Editing and Retouching: Professional photographers often provide post-processing services, including color correction, retouching, and enhancements, to ensure your images look polished and professional.
Variety of Shots: Professionals can provide a diverse range of shots, ensuring you have a well-rounded collection of images.
High-Quality Images: Professional photographers deliver high-resolution images that are suitable for printing and displaying as wall art.
Personalized Service: Photographers often tailor their approach to your preferences, ensuring that the photoshoot reflects your unique style and story.
Attention to Detail: Professionals pay attention to details like lighting, background distractions, and clothing adjustments to ensure every aspect of the photo is well-executed.

Our experience with this company was fantastic from start to finish. The photographer is so creative and inspired, and as a result produces photos that are unmatched in beauty and clarity.
NADINE, 2023 FAMILY PORTRAITS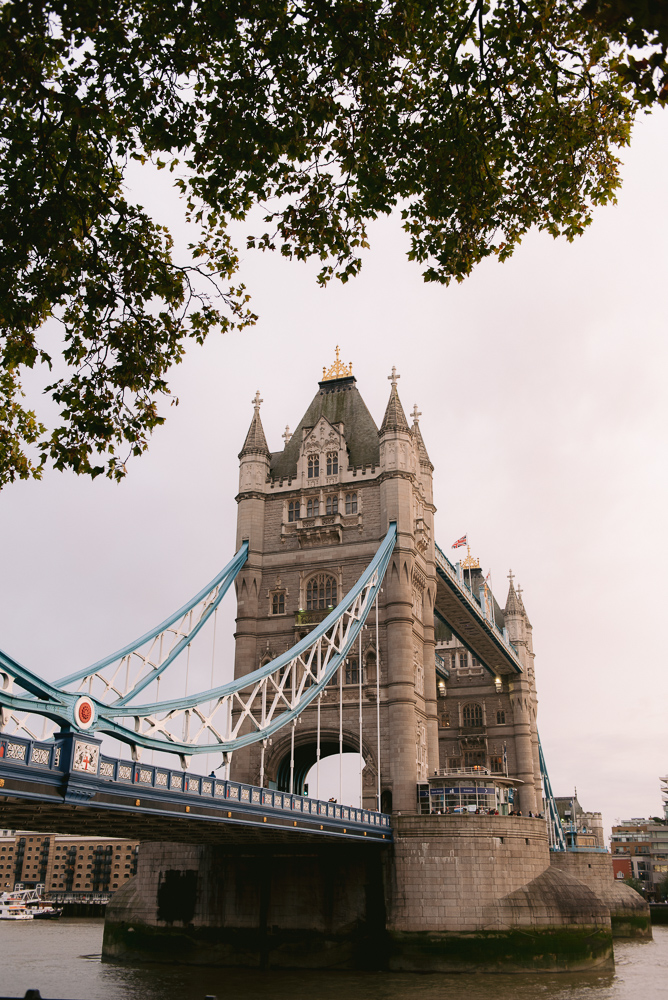 BOOK A PROFESSIONAL PHOTOGRAPHER FOR A LONDON BRIDGE PHOTOSHOOT
Get unforgettable memories in the most iconic place in London: Tower Bridge.
Your Life is a Present!