Travel
London Photo Shoot Locations
Where to find the most breathtaking places to take your shots in London
London, with its rich history, incredible culture, and diverse architecture, is home to a myriad of captivating photoshoot locations that will make any couple, family or tourist feel astonished. Whether you want a London photoshoot location for your wedding, with your family or to celebrate a certain milestone in your life, the city's vibrant energy and timeless charm provide an exceptional backdrop. Explore it, as it was written from the heart by a group of passionate London photographers, from our own experience.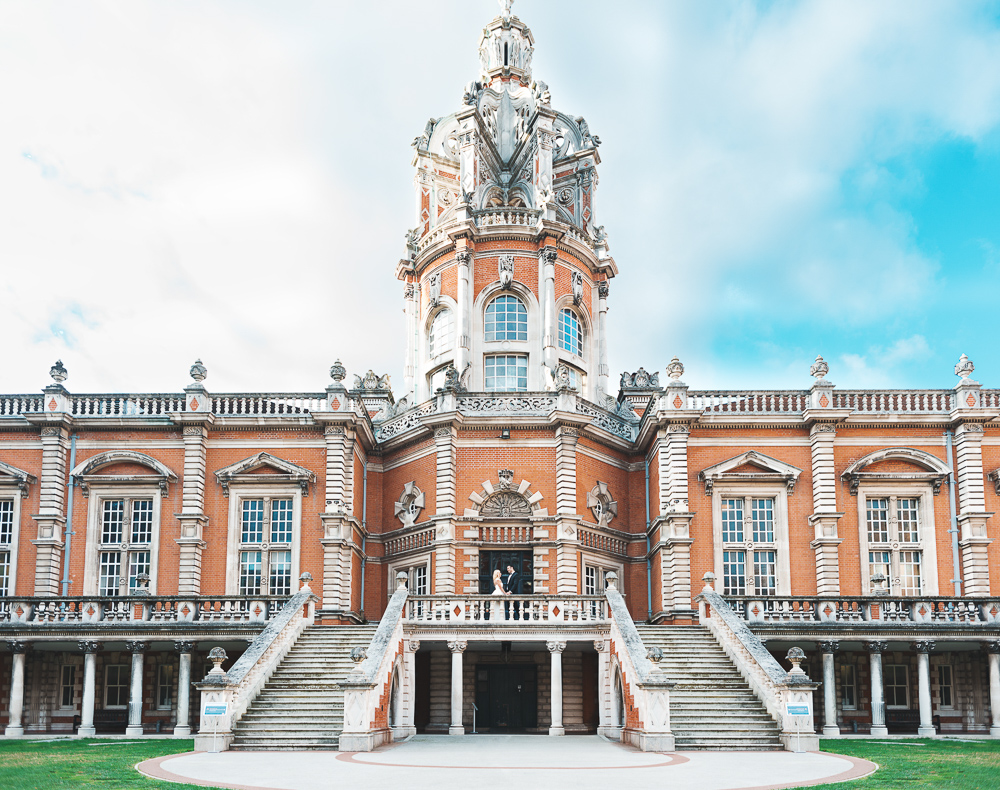 In this article, you will discover some of the most iconic London photoshoot locations, each offering a unique blend of history, aesthetics, and urban vibes.
WHO SHOULD GET A LONDON PHOTOSHOOT?
A London photoshoot in a great location is an amazing idea for couples, individuals celebrating a milestone, or families. You will have a wonderful time, and create memorable moments while enjoying a fun experience. If you're not convinced that a professional London photoshoot is right for you, here's a list of those who can benefit from taking their shots in such an iconic city:
Couples who want to make long-lasting memories can document their amazing journey with a London photoshoot in the most emblematic locations in the city. Also, if you are planning a proposal, want to create stunning pre-wedding photos, or to capture maternity moments together, as future parents, London is a go-to location.
Families who are traveling, love to spend time together, and want to immortalize these moments should also hire a professional London photographer.
Influencers, models or travelers who are passionate about fashion and want to have captivating social media content can get a professional photoshoot in some of the best locations in London.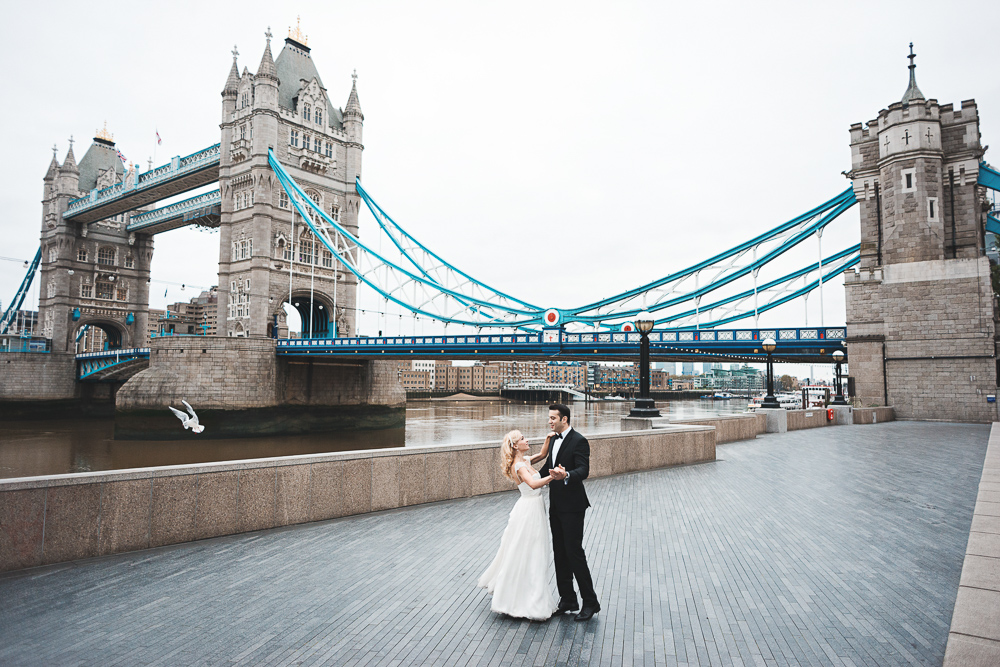 WHICH ARE THE BEST LONDON PHOTOSHOOT LOCATIONS?
London is full of breathtaking photoshoot locations and hidden gems that are the perfect backdrop for any family group or couple.
BEST PHOTOSPOTS
in London
If you're planning a trip to this vibrant and modern city, these are some of the locations you should not miss if you want a memorable and fun experience.
Tower Bridge
Tower Bridge is such a well-known landmark for London and is considered to be the most photographed place in the city. It has such an amazing light, especially during sunrise or sunset, and offers your photographers so many opportunities to create stunning images. Also, taking pictures on each bank will give the perfect backdrop with the bridge and the modern city. For more info about this location, check this complete guide for the Tower Bridge photoshoot.
South Bank
The South Bank of the River Thames is known for its vibrant atmosphere, street performers, and stunning views of landmarks like the London Eye and St. Paul's Cathedral.
Notting Hill
With its colorful houses, charming streets, and the famous Portobello Road, Notting Hill offers a whimsical and romantic setting for photoshoots.
Covent Garden
The lively atmosphere, cobblestone streets, and vibrant market make Covent Garden a great place for capturing candid and dynamic shots.
Hampstead Heath
This vast green space provides a natural and serene setting, perfect for capturing family moments or intimate couple shots.
Kensington Palace and Gardens
The palace and its beautifully landscaped gardens offer a regal backdrop with a mix of architecture and nature.
Best Photo Spots in London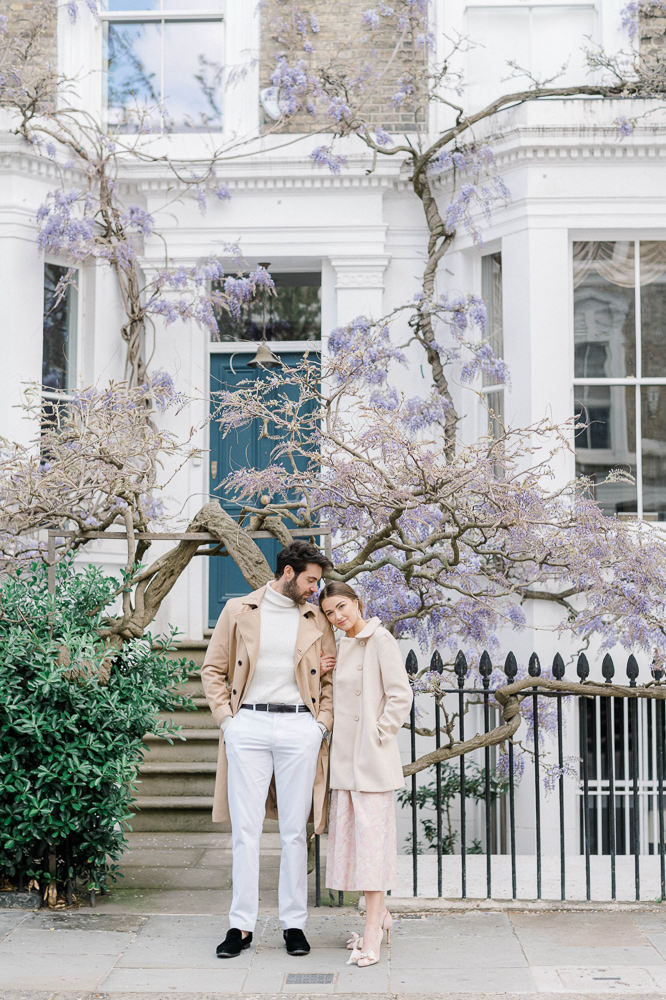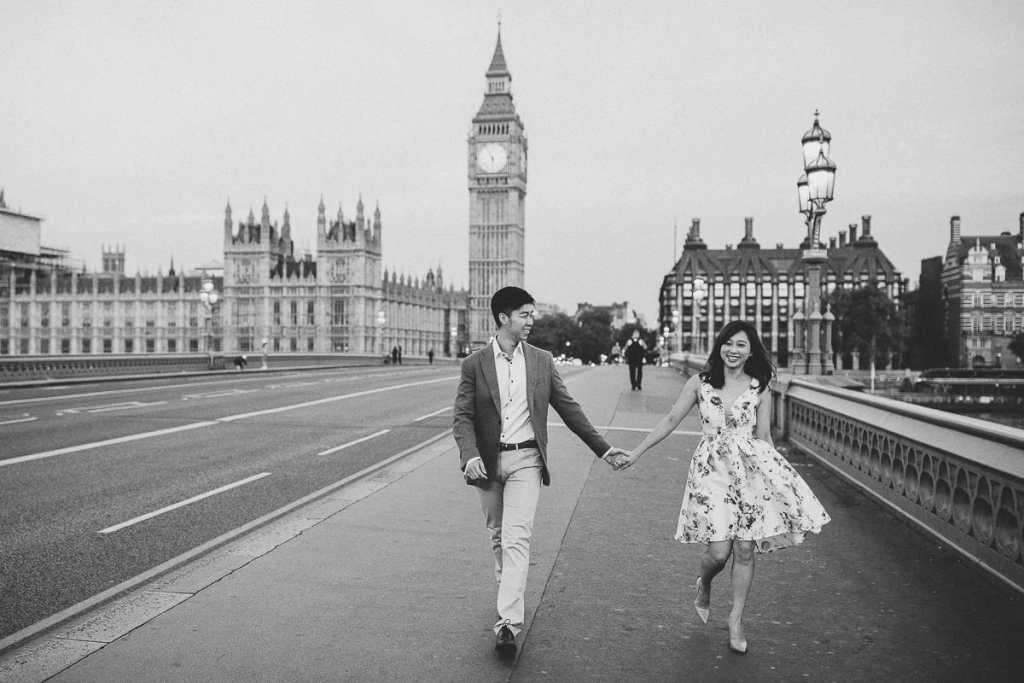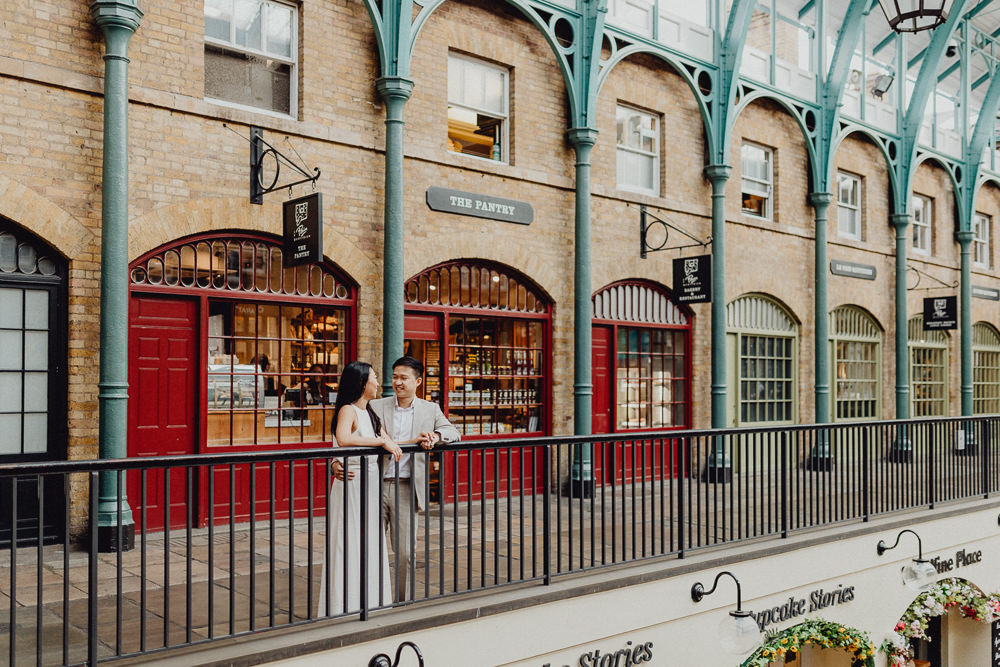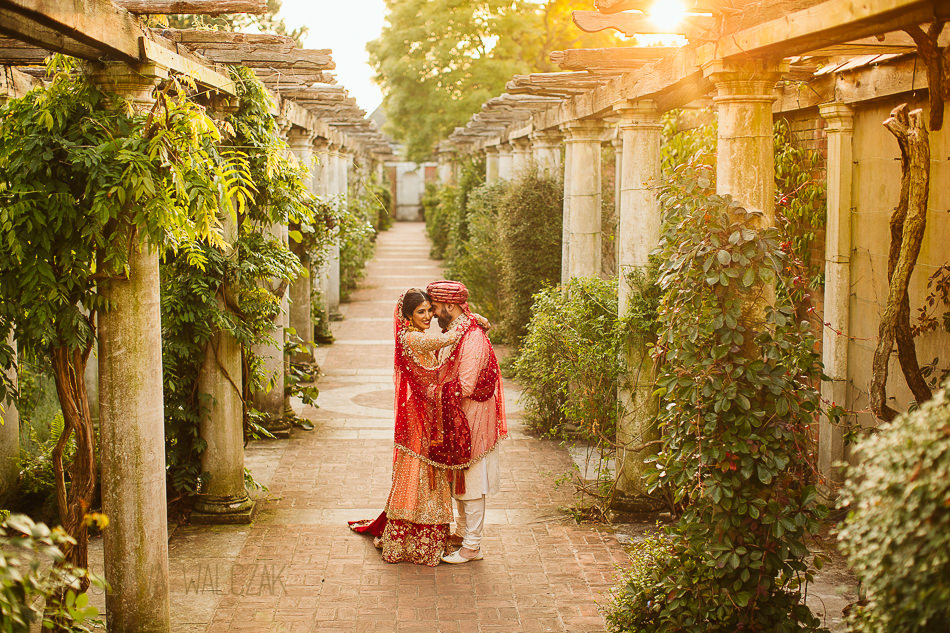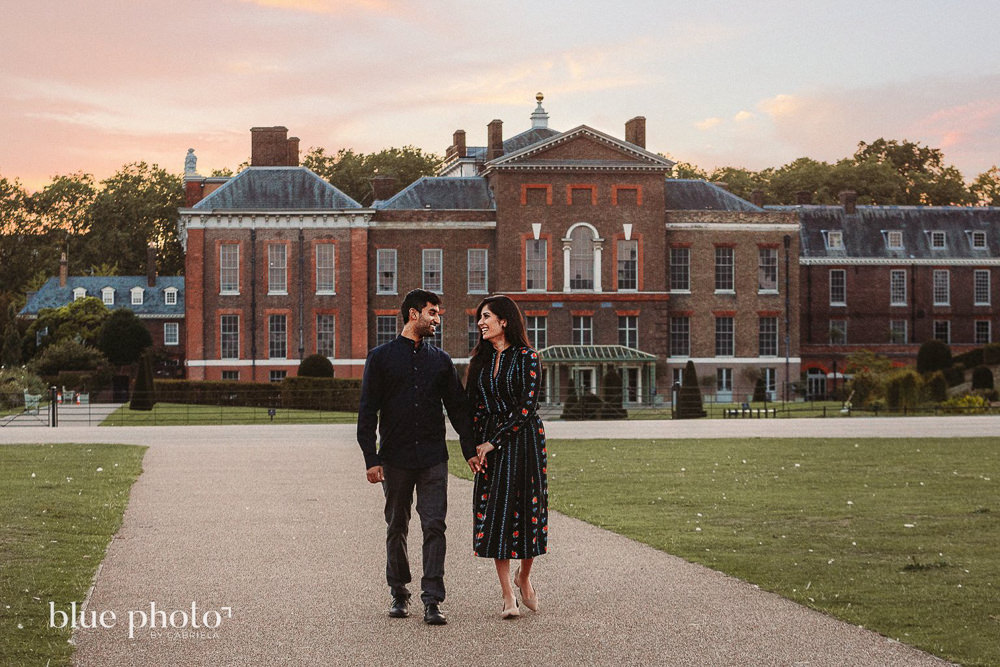 Photo credit for the images above: Morgan Taylor, Wojtek, Heather Sham, Slawa Walczak, Blue Photo.
SOME ADDITIONAL
Photo Spots in London
London is simply a big city with a lot of places to offer for photo sessions. Here are some additional locations.
Regent's Park
With its lush gardens, boating lakes, and stunning architecture like the Queen Mary's Rose Garden, Regent's Park offers diverse settings for photos.
Primsore Hill
A short walk from Regent's Park, Primrose Hill provides panoramic views of the city skyline, ideal for capturing romantic sunsets or family gatherings.
Buckingham Palace
The grandeur of Buckingham Palace and the surrounding area can add a touch of elegance to your photoshoot.
Kew Gardens
If you're looking for a botanical paradise, Kew Gardens is a fantastic location with its variety of landscapes, including glasshouses, flowerbeds, and tree-lined paths.
Columbia Road Flower Market
This colorful market is a fantastic spot for vibrant and lively family or couple photos, surrounded by a sea of flowers.
Canary Wharf
If you prefer a more modern and urban backdrop, Canary Wharf's skyscrapers and sleek architecture can create a unique atmosphere for your photoshoot.
Alternative photo spots in London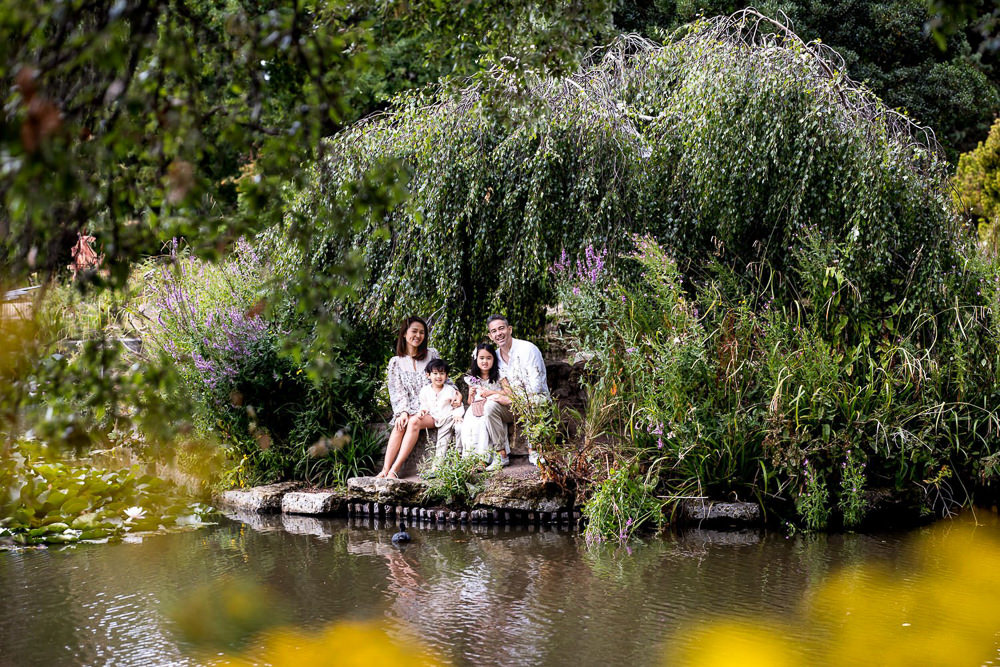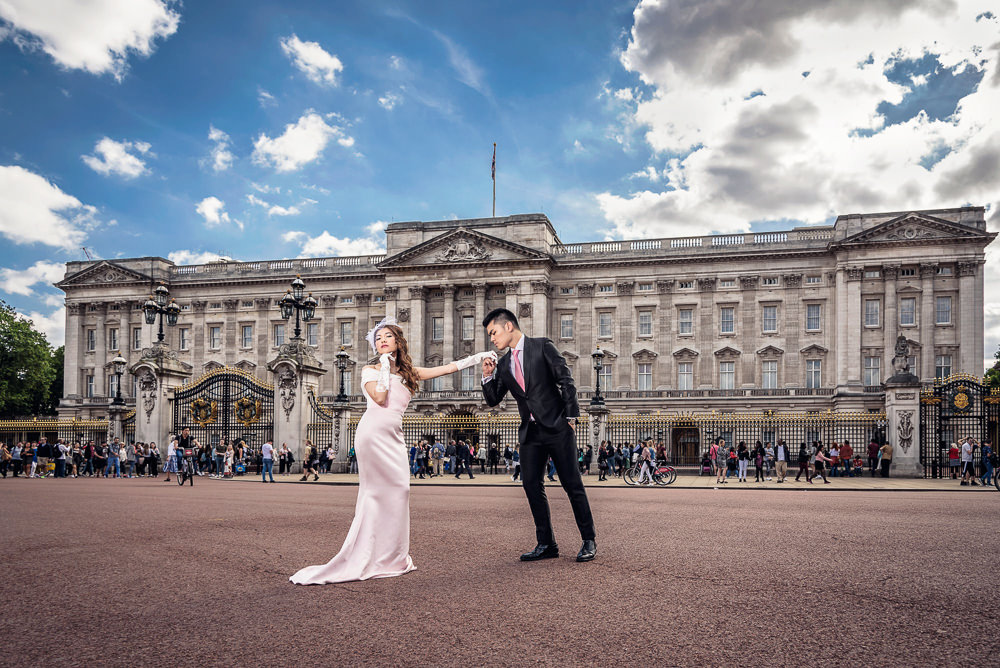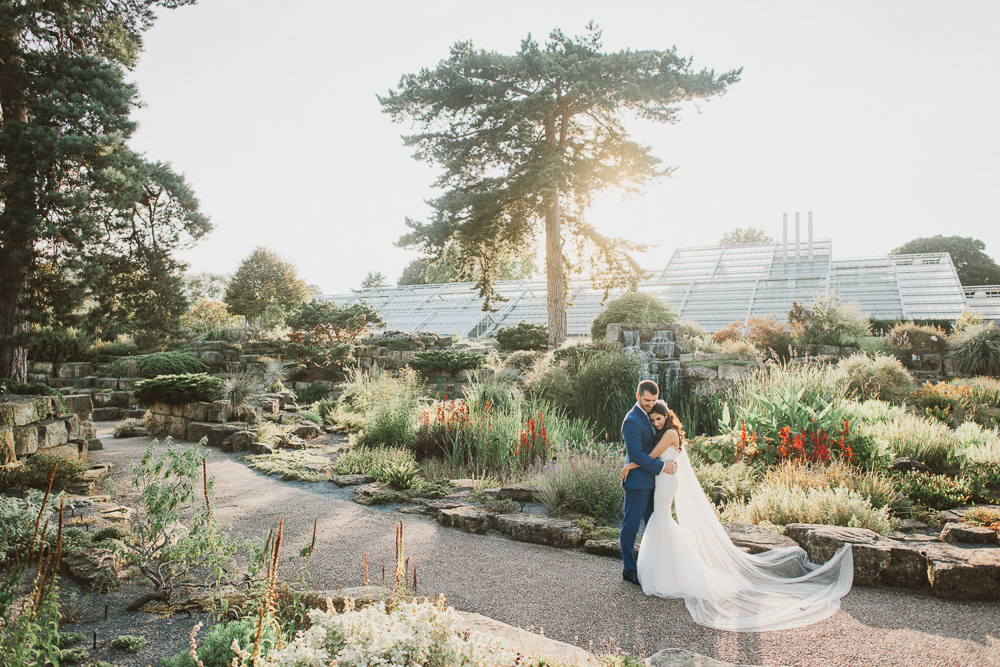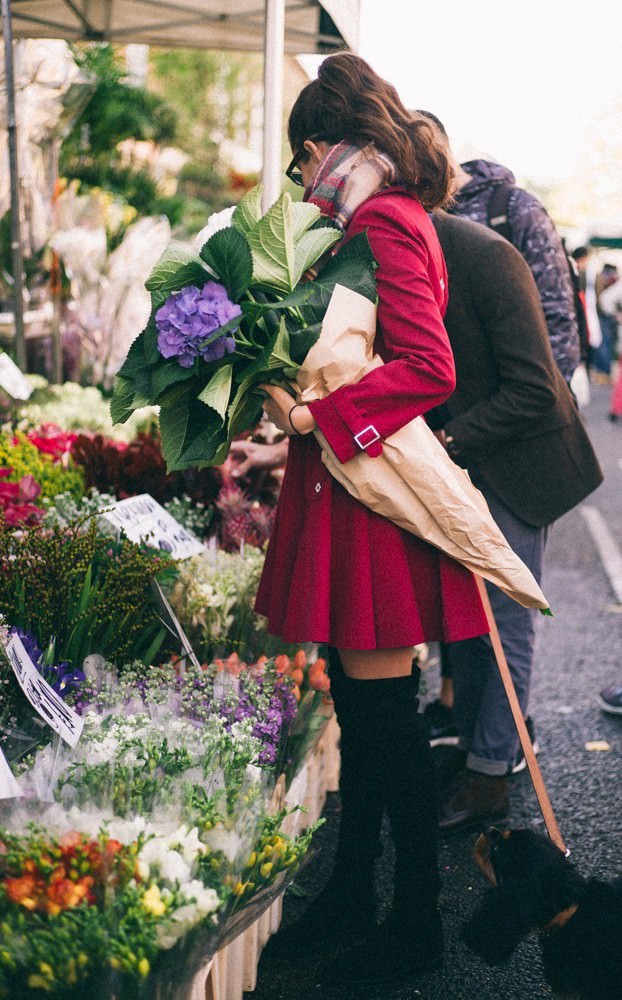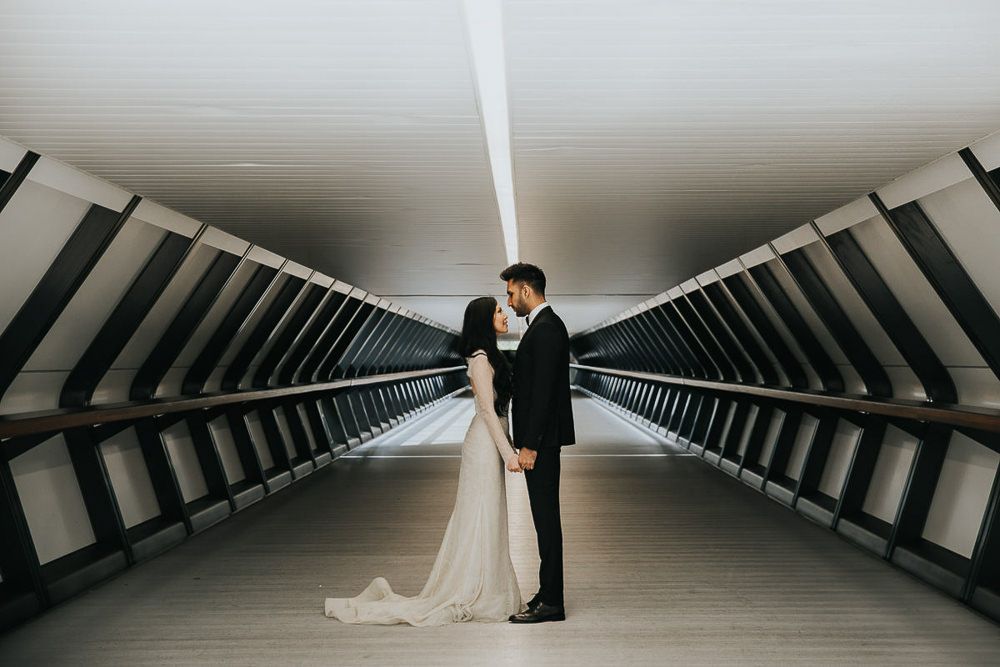 Photo credits for this gallery: Kirsty Hamilton, Barrie Downie, Stephanie Swann, The Londoner, Natalie J.
LONDON PHOTOSHOOT LOCATIONS AT NIGHT
London changes at night and provides numerous opportunities for capturing breathtaking shots.
LONDON AT NIGHT
Through Our Lens
All the important buildings have beautiful lights that create a stunning ambiance, and you can admire and capture them in an entirely different way.
Big Ben
and the House of Parliament are the perfect scenes for your London photoshoot. The illuminated clock tower and the nearby Houses of Parliament present a classic London, capturing the unique charm.
Southbank and London Eye
The area along the Southbank of the River Thames, with its colorful lights and the London Eye Ferris wheel, provides a dynamic and lively atmosphere for your photoshoot.
St. Paul's Cathedral
This magnificent cathedral looks stunning when lit up at night. Also, the surrounding area offers great photo opportunities.
Covent Garden
This lively district features glowy lights, street performances, and unique architecture, creating an electric backdrop for your nighttime photos.
Leadenhall Market
This historic covered market features beautiful architecture and charming lights that create an atmospheric setting for nighttime photography.
Piccadilly Circus
Known for its bright LED displays and bustling atmosphere, Piccadilly Circus is a popular location for capturing London's energy.
Night photo locations in London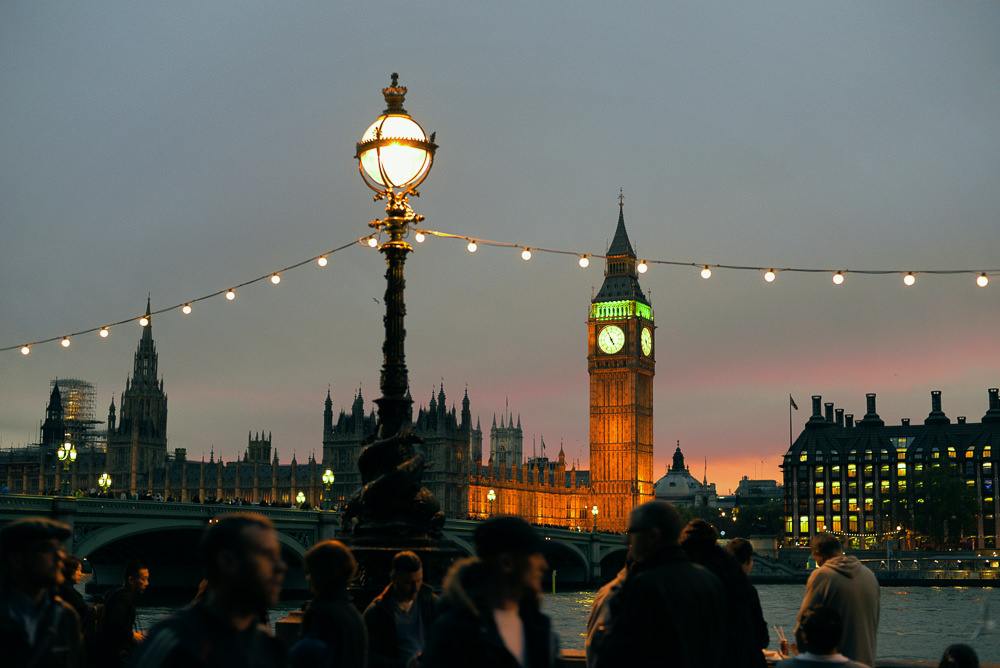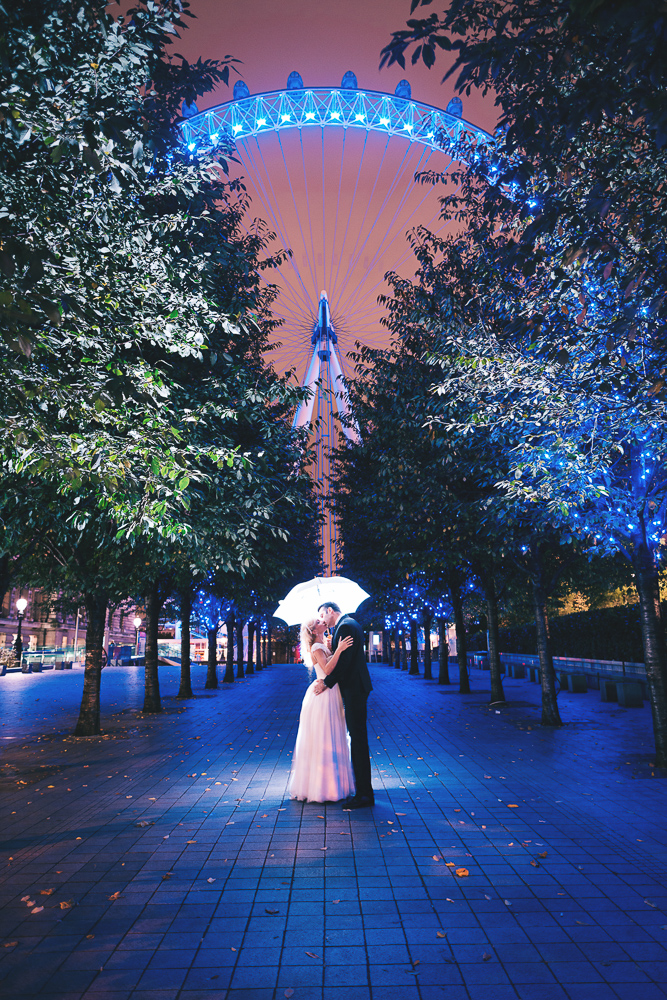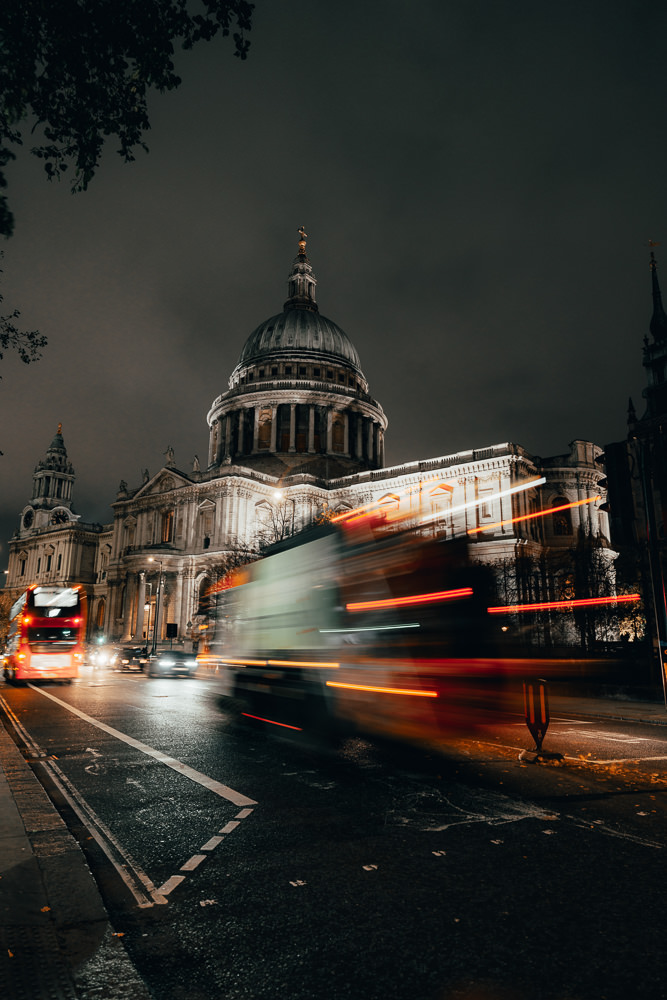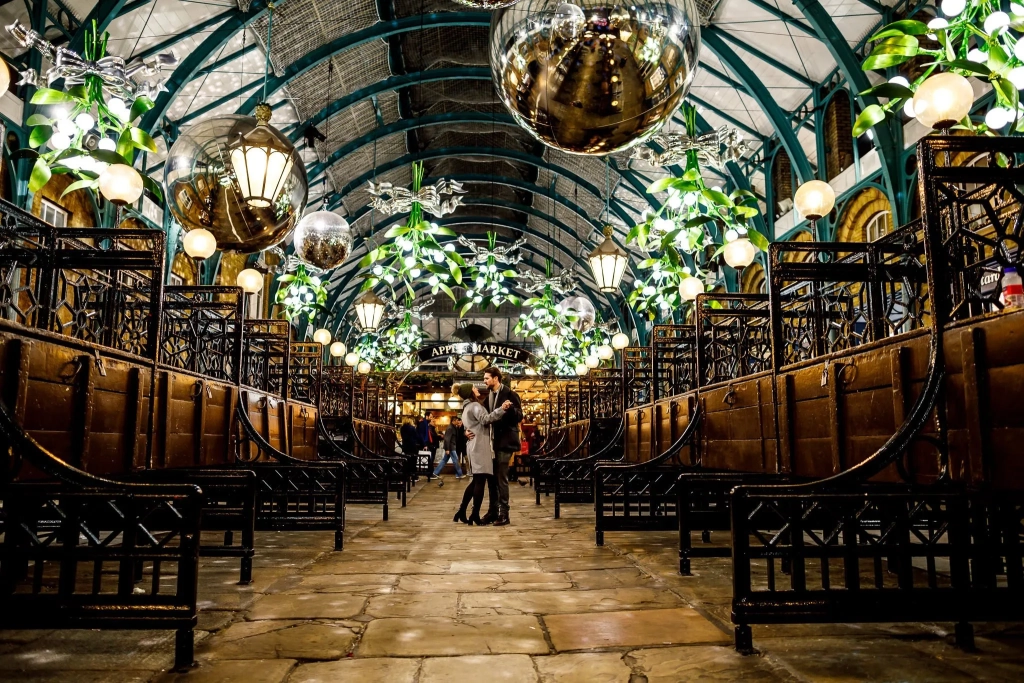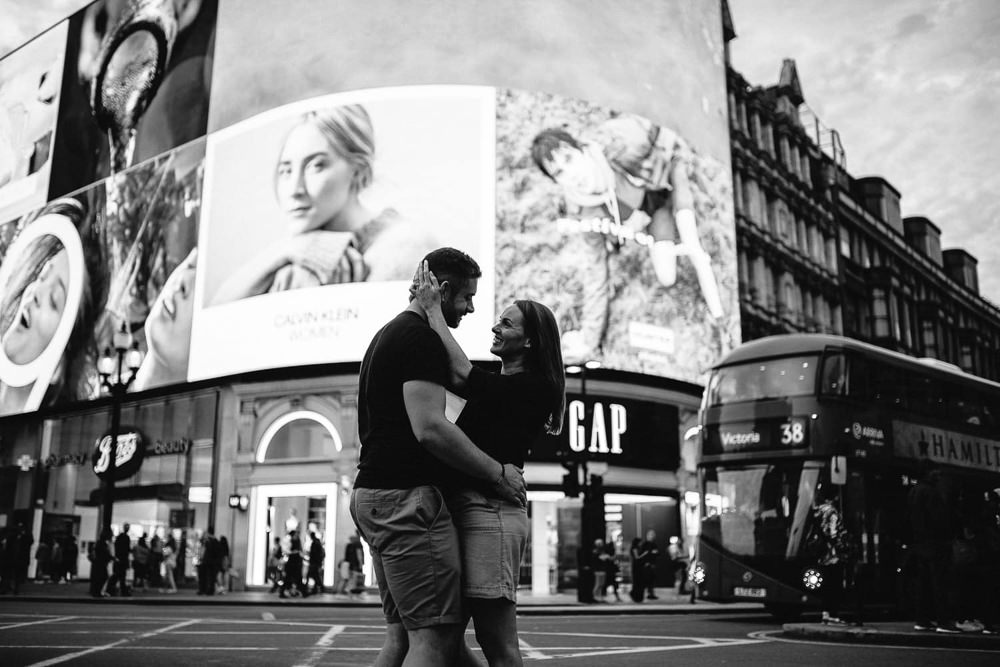 Photo credit for gallery above: Pedro Carballo, Fran Boloni, Charlie Harris, Lina & Tom, The Three Bears.
Also, the Tower Bridge changes its aspect during nighttime. The two towers and bascules are illuminated and the light reflects on the water.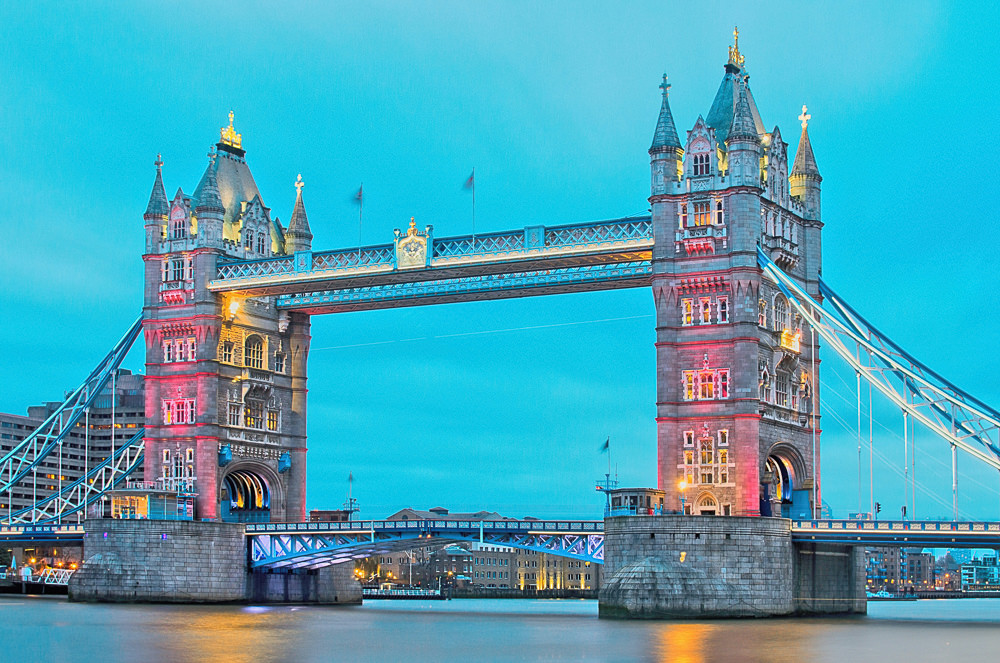 WHAT TO WEAR DEPENDING ON THE LONDON PHOTOSESSION LOCATION
Depending on the location you're choosing, the atmosphere you want to capture, the purpose of the photo shoot, or your style and personal taste, your outfits will vary. You can bring your outfits in your luggage, buy clothes in London, or even rent your gown, it's all up to you and the budget you've set up.
For iconic landmarks like Tower Bridge, Big Ben, or the House of Parliament you can go for a classic look, with stylish outfits. Choose a semi-formal or formal attire to match the elegance of the landmarks. Consider wearing dresses, suits, or smart casual outfits.
If you want to capture more of the urban areas, and modern skyscrapers, go for trendy and casual clothing that suits your London photoshoot location. Incorporate in your outfit modern accessories and have loads of fun while posing.
Green spaces such as gardens are the best locations for a London photoshoot. Greenwich Park, Regent's Canal, and Hyde Park are some of the most beautiful spots if you want to be surrounded by greenery. Go for casual, comfortable, and relaxed outfits. Choose more earthy colors or a boho style for your pre-wedding photos.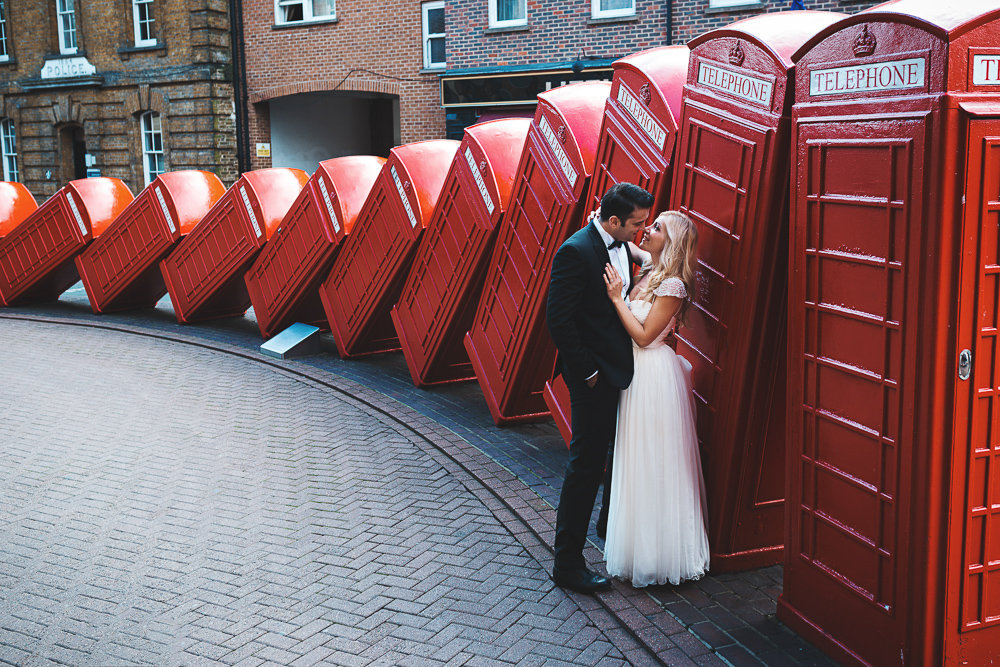 BEST PHOTOSHOOT LOCATIONS FOR INSTAGRAM
If you're looking for the best photoshoot locations in London for Instagram-worthy shots, you'll want to focus on places that offer visually appealing backdrops, unique aesthetics, and a touch of the city's charm. Here are some of the top Instagram-friendly photoshoot locations in London:
Notting Hill: This neighborhood is famous for its colorful houses, charming streets, and eclectic shops. The pastel-colored houses along Portobello Road and the iconic Notting Hill Bookshop are particularly popular for Instagram photos.
Neal's Yard: Tucked away in Covent Garden, Neal's Yard is a hidden gem known for its vibrant colors, quirky storefronts, and artsy atmosphere. It's a great spot for colorful and playful photos.
Peggy Porschen Cakes: This charming bakery in Belgravia is renowned for its pastel-pink façade and floral decorations. It's a favorite spot for those seeking dreamy, fairytale-like photos. Before going here, you should contact the bakery and ask permission to take photos inside.
Sky Garden: This public space at the top of a skyscraper offers panoramic views of London's skyline. The lush indoor garden and stunning views make it a fantastic location for sophisticated shots. To set up a photoshoot at Sky Garden, you first need to get their approval and pay a fee.
These are just a few of the most fabulous places for Instagram shots. If you want to book a London photoshoot in one of these locations, we recommend you go during off-peak hours to avoid crowds.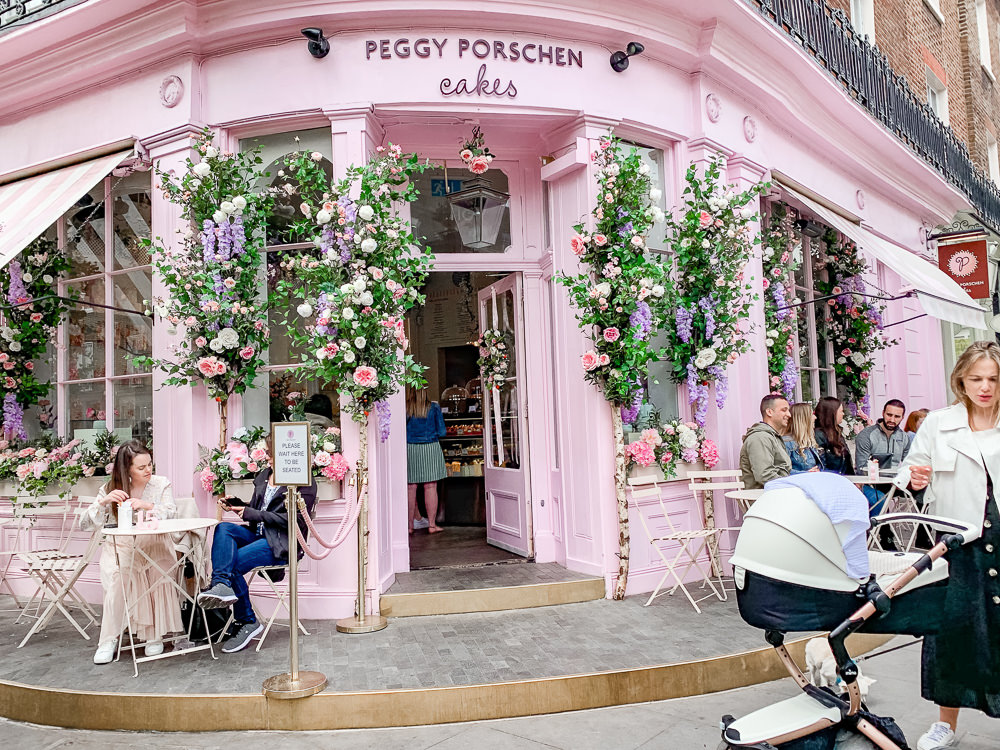 THE IDEAL LOCATIONS FOR DIFFERENT TYPES OF PHOTOSHOOTS IN LONDON
When planning your wedding photoshoot, consider the theme and style you want to capture. Be sure to check with the chosen location for any permits, fees, or restrictions related to photography.
Moreover, hiring a professional photographer with experience in the chosen location can help ensure that your wedding photos are beautifully captured in your desired setting. Here are the best London Photoshoot Ideas and locations to do your shots: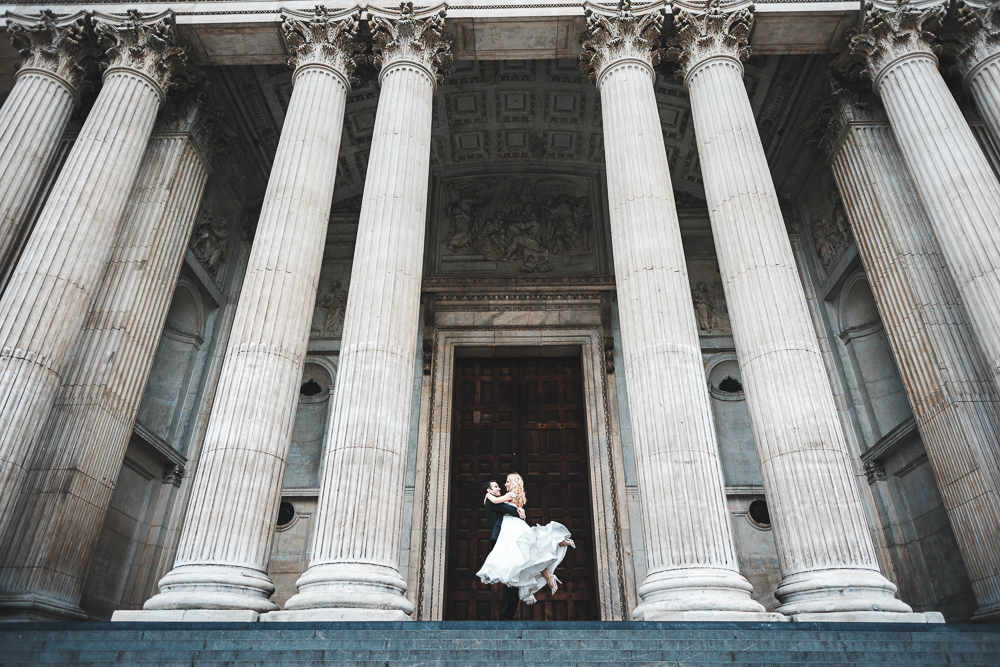 LONDON PHOTOSPOTS FOR WEDDING PHOTOS
London offers a diverse range of wedding photoshoot locations that cater to various preferences and themes. Whether you're seeking classic elegance, modern sophistication, or unique charm, here are some wonderful wedding photoshoot locations in London:
Kew Gardens: The botanical gardens provide a stunning natural backdrop with lush landscapes, iconic glasshouses, and picturesque pathways.
The Savoy Hotel: This luxurious hotel offers elegant interiors, a grand staircase, and Thames River views, making it a perfect choice for a lavish photoshoot.
Hampton Court Palace: The historic palace boasts beautiful gardens, ornate architecture, and a timeless ambiance for capturing regal wedding photos.
The Gherkin: The iconic skyscraper offers modern and sleek architecture, providing a unique and urban backdrop for contemporary couples.
St. Paul's Cathedral: The magnificent cathedral's grandeur and historic beauty make it an excellent choice for couples seeking a classic and timeless setting.
Learn more about a wedding photo shoot in London !
LONDON PHOTOSPOTS FOR ENGAGEMENT PHOTOS
Southbank: The riverside views, iconic landmarks, and urban energy of Southbank offer a dynamic setting for engagement photos.
Greenwich Park: The park's vast greenery and views of the city create a romantic and peaceful atmosphere for engagement shots.
Notting Hill: The colorful houses and charming streets of Notting Hill add a whimsical touch to engagement photos.
Check out our guide for a London Engagement photoshoot!
BEST PHOTO SPOTS FOR FAMILY PHOTOS
Holland Park: With its Kyoto Garden and expansive lawns, Holland Park offers a family-friendly environment for capturing candid moments.
Kew Gardens: The botanical gardens provide a lush backdrop for family portraits amidst diverse plant species.
Richmond Park: The open spaces and natural landscapes of Richmond Park create a relaxed atmosphere for family photos.
Find out more about the family photo shoot in London!
PHOTOSPOTS FOR PREGNANCY PICTURES IN LONDON
St. James's Park: The park's serene lake, gardens, and wildlife offer a tranquil environment for capturing maternity photos.
Columbia Road Flower Market: The vibrant flowers and bustling market atmosphere can add a joyful and colorful touch to maternity shots.
Discover our small guide for pregnancy photo shoot!
LONDON PHOTOSPOTS FOR PREWEDDING PICTURES
Kew Gardens: The botanical gardens offer a romantic and natural setting for wedding photography.
Tower Bridge: The iconic bridge and Thames River views create a memorable backdrop for wedding photos.
St. Pancras Renaissance Hotel: The elegant interiors and Victorian architecture make this hotel a charming venue for wedding shots.
Check the Pre-wedding photoshoot guide here!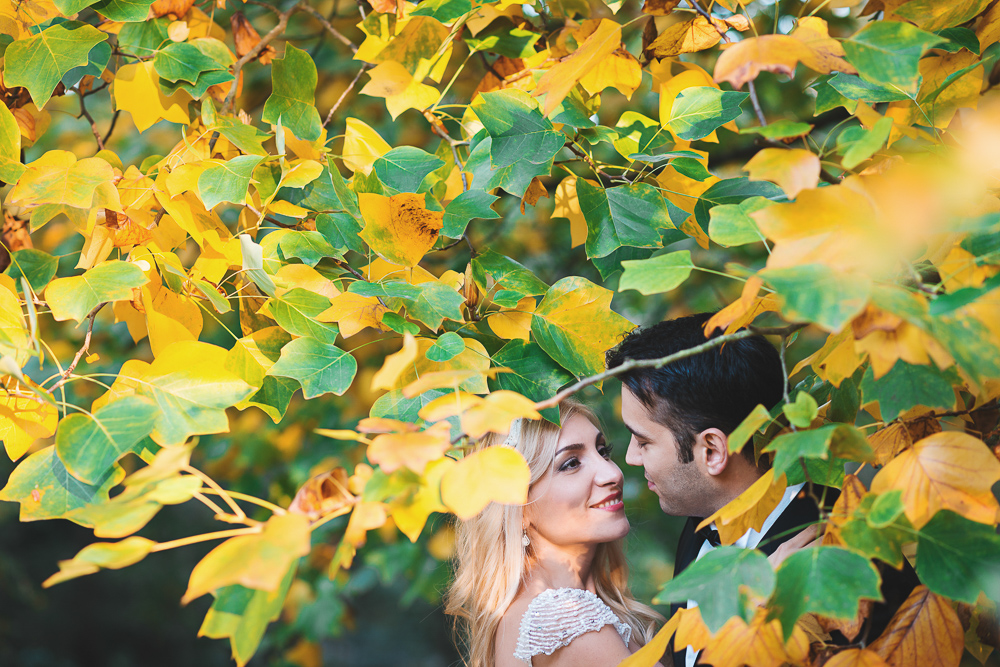 LONDON PHOTOSHOOT LOCATION INSPIRATION
From iconic landmarks that whisper tales of history to hidden gems that exude modern creativity, the city offers an eclectic range of photoshoot locations that cater to every vision and aesthetic. If you are a couple hoping to freeze romantic moments against the city's iconic backdrop, this gallery is your gateway to a world of inspiration.
Gallery coming soon…